Proudly Serving Kansas City Area Concrete Contractors & Construction Companies
Talon Concrete & Quicksilver Readymix is proud to work with a variety of customers in the Kansas City area. From top industry construction companies to the freelance handyman, no project is too big or too small- we have concrete for you all!. Our concrete has been used in a number of notable Kansas City landmarks, including the Truman Sports Complex, the Kauffman Performing Arts Center, and Sporting Park.
We serve the following customers, among others:
Talon Concrete & Quicksilver Ready Mix can provide the following concrete selections to contractors in the Kansas City area:
Select concrete – High grade concrete mix for general constructin use
Formula concrete – Concrete mix for applications with accelerated schedules
Flo-concrete – Self-consolidating concrete with high fluid/plastic properties for ease of placement in certain applications
No matter your concrete application — sidewalk, patio, driveway, stairs, foundation, and more — we offer the highest quality concrete products to meet your home improvement or construction needs. Our convenient Kansas City locations allows for easy transport from our location to the job site.
Construction Companies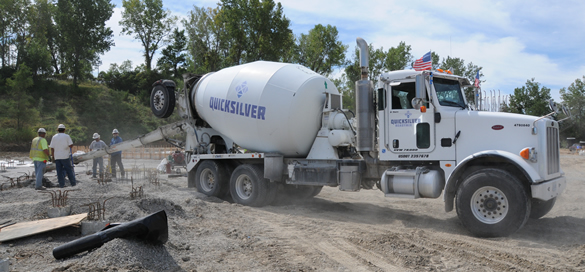 If you are in need of a concrete supplier for residential or commercial construction projects, our reliable Kansas City company can help.
Our service radius spans both sides of the state line. From Kansas City to Warrensburg or Olathe, Talon Concrete & Quicksilver Readymix can service your concrete needs. Find any one of our seven convenient KC metro locations. We provide on-time and reliable service.
Construction companies will benefit from our selection of quality concrete, including:
Select concrete: recommended for general construction
Formula concrete: recommended for construction projects with a rigorous schedule
Flo-Crete: recommended for projects requiring high-fluid plastic properties
Kansas City Concrete
For more information on how we can serve Kansas City concrete contractors and construction companies, contact us at (816) 336-1420 (Union)or (816) 336-1816.