Concrete Contractors Plant Locations in Kansas City
Talon Concrete & Quicksilver Readymix are locally owned and operated concrete contractors in Kansas and Missouri. We supply ready mix concrete to the entire Kansas City region. When you search "concrete delivery near me" and find Talon Concrete & Quicksilver Readymix, you know you're getting the best the area has to offer.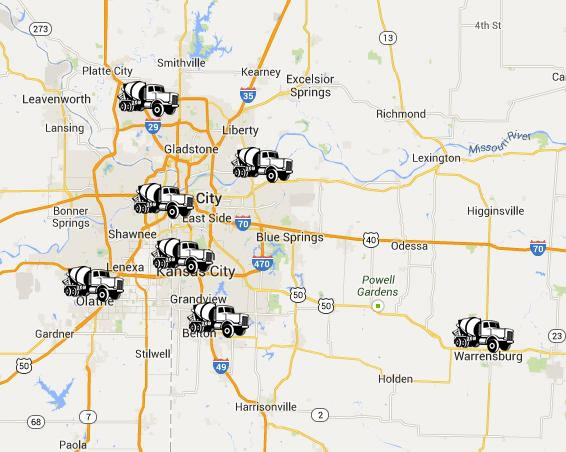 Seven Convenient KC Metro Concrete Plant Locations to Serve You
Talon Concrete & Quicksilver Readymix are your professional, trusted concrete suppliers across Kansas and Missouri, with seven convenient concrete plant locations across the Kansas City Metro area. Offering different locations throughout the area allows us to better serve your needs and ensure the delivery of your concrete is done on time and without a hitch.
8414 NW 104th Street, Kansas City, MO, 64155
1245 W. 149th Street, Olathe, KS, 66061
1025 Elmyra Circle, Belton, MO, 64102
2601 N. 291 Highway, Sugar Creek, MO, 64054
247 NE East Division Road, Warrensburg, MO, 64093
3101 E. 85th Street, Kansas City, MO, 64132
317 S. 3rd Street, Kansas City, KS, 66118
Call Today for Union or Non-Union Jobs
Whether you need union workers or non-union workers for your concrete job, we have you covered. Talon Concrete employs union workers and Quicksilver Readymix employes non-union workers. Both are concrete contractors you can trust for quality ready mix concrete delivery wherever you may need it in the Kansas City region.
For more information on our services and concrete plant locations, contact Talon Concrete & Quicksilver Readymix at  (816) 257- 4000.