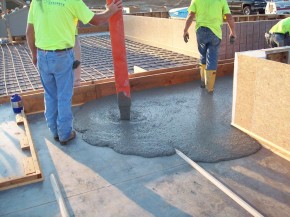 Flo-Crete Self-Consolidating Ready Mix Concrete
Our Flo-Crete brand self-consolidating ready mix concrete provides the fluid plastic properties that make ease of placement, superior finish, and high strength in-place savings a reality. Our unique formula of ready mix concrete is perfect for a variety of applications such as masonry grout, columns, walls, topping slab, and more. Flo-Crete is designed to mix quickly and easily for a smooth, even pour.
Benefits of our Flo-Crete Mix Designs:
Faster placement
Reduced number of pours
Flows easily around heavily reinforced projects
Requires no vibration
Consolidation without segregation
Reduced labor
Our proprietary Flo-Crete mix designs provide performance in these applications:
| | |
| --- | --- |
| Flo-CreteMix Design | Application |
| V-Flo | Columns, Walls |
| H-Flo | Slab on Grade, Slab on Deck |
| Top-Flo | Topping Slab to Receive Floor Covering |
| Block-Flo | Masonry Grout |
Talon Concrete & Quicksilver Readymix understand that there is no one-brand-fits-all solution for every project. Depending on your work, you'll need a concrete solution with a specific consistency, strength, or even color. We have unique Flo-Crete mix designs and admixtures available to achieve objectives for:
Horizontal concrete placement
Vertical concrete placement
High strength (with or without synthetic or steel fibers)
Reduced shrinkage
Reduced permeability
Reduced or Extended set times
Color achieved through Davis Colors
Place an Order Now
Finding a concrete mix that is both user-friendly AND high-quality can be a game of push and pull. It doesn't have to be when you partner with Talon Concrete & Quicksilver Readymix. We are pleased to offer Flo-Crete as the answer to your concrete mix problems. We are dedicated to taking care of your Kansas City, Sugar Creek, or Independence, MO, concrete mix needs.
For more information about this unique concrete mix, contact us by calling
(816) 336-1816 — we look forward to serving you. 
Proudly serving Kansas City and the surrounding areas, including Sugar Creek & Independence, Missouri. 
From product choice, mix design, or delivery logistics, our team can provide the technical support you need to Build With Confidence.