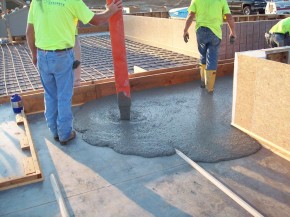 Flo-Crete Self-Consolidating Ready Mix Concrete
Different concrete jobs can require different types of concrete mixes. Some mixes are slower to cure while other mixes set in seemingly no time at all. When deciding between a concrete mix that is more fluid and malleable versus a concrete mix that is more durable, trust Talon Concrete & Quicksilver Readymix to help you choose the right type of ready mix concrete for your concrete construction needs.
At Talon Concrete & Quicksilver Readymix, we have a variety of commercial concrete for you to choose from. One of the custom concrete mixtures we offer is our Flo-Crete brand of self-consolidated concrete. Our expertise in concrete mixing and SCC concrete delivery means you will get the right concrete for the job every time.
Our Flo-Crete brand self-consolidating cement benefits your project with fluid plastic properties that make this ready mix concrete easy to place with a superior finish and high in-place strength that will save your job time and money. Our unique formula of ready mix concrete is perfect for a variety of applications such as masonry grout, columns, walls, topping slab, and more. As self-consolidating concrete, Flo-Crete is designed to mix quickly and easily for a smooth, even pour.
Benefits of our Flo-Crete Mix Designs:
Due to its simple and effective application and formula, Flo-Crete self-consolidating concrete ready mix is one of the many reasons to partner with Talon Concrete & Quicksilver Readymix for your next construction project. Not only do we provide extensive concrete services, such as reliable concrete delivery, with concrete plants throughout the greater Kansas City area and concrete pumping, but we also offer custom-made products that suit your needs.
Our Flo-Crete mix has a number of advantages over other concrete mixes:
Faster, more efficient placement
Reduced number of pours
Flows easily around heavily reinforced projects
Easy filling of restricted sections
No vibration required
Consolidation without segregation
Increased job site safety
Reduced labor costs
Our proprietary Flo-Crete mix designs provide performance in these applications:
| | |
| --- | --- |
| Flo-CreteMix Design | Application |
| V-Flo | Columns, Walls |
| H-Flo | Slab on Grade, Slab on Deck |
| Top-Flo | Topping Slab to Receive Floor Covering |
| Block-Flo | Masonry Grout |
Talon Concrete & Quicksilver Readymix understands that there is no one-brand-fits-all solution for every project that uses self-consolidating concrete. Depending on the job to be done, you'll need a concrete solution with a specific consistency, texture, strength, or even color. Your satisfaction is important to us; we want your finished job to turn out precisely the way you envisioned it. We have unique Flo-Crete self-consolidating concrete ready mix designs and mixtures available to achieve objectives for:
Horizontal concrete placement
Vertical concrete placement
High strength (with or without synthetic or steel fibers)
Reduced shrinkage
Reduced permeability
Reduced or extended set times
Color achieved through Davis Colors
Tell us about your concrete project, and we can help you find the right mix for the job. Whether you are working on a concrete curb, foundation walls, concrete steps, garage floor, driveway, concrete slab, sidewalk, or just performing concrete repairs, our Flo-Crete ready mix is exactly what you need to achieve excellent results.
Place an Order for SCC Concrete Delivery Now
Finding a self-consolidating concrete mix that is both user-friendly AND high-quality can be a high-risk game, but it doesn't have to be when you partner with Talon Concrete & Quicksilver Readymix. We are pleased to offer Flo-Crete as the answer to your consolidating concrete mix problems. We are dedicated to taking care of your Kansas City, Sugar Creek, or Independence, MO, SCC concrete ready mix needs.
For more information about this unique concrete mix, contact us by calling
(816) 257- 4000 — we look forward to serving you. 
Proudly serving Kansas City and the surrounding areas, including Sugar Creek & Independence, Missouri. 
From product choice, mix design, or delivery logistics, our team can provide the technical support you need to Build With Confidence.